Klattermusen is a Swedish brand of outdoor clothing and rucksacks that have been going since 1975. Their key philosophy is maximum safety with minimum impact on nature. This closely aligns with our values here at Climb Torridon. I've been very excited to be able to have some new clothing from them to use in this coming winter season.
All of the products they produce are as sustainable as possible with a constant effort to lesson the impact on the natural environment. They use recycled materials free from damaging fluorocarbon treatments and focus on durability so garments need to be replaced less often.
Being out in the hills regularly in all conditions from driving rain and snow to bright sunshine while being battered against the abrasive rocks of the North West Highlands and Skye will make sure they get put through their paces and I will let you know what I think. Firstly though here's a few initial impressions of the items I have for this coming season: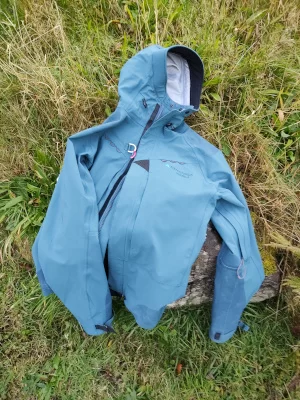 Draupner Waterproof Shell Jacket
This is a heavy duty waterproof, designed to withstand the harshest of conditions. It's made from Klattermusen's own Cutan fabric. It features a raft design elements to protect you from the harshest conditions. Here's some of the key features:
Hood with wrap around visor that protects from side blown rain and snow as well as from above and doubles as high neck protection when not pulled up.
Double storm flaps on main zip with the largest zip pull I've ever found so it's easy to manipulate with gloves on.
Two large highly situated chest pockets to work with harnesses and hip belts.
Underarm vents and a toggle clasp for the front zip for maximum venting when working hard.
Innovative wrist closure that's simple to use with gloves on.
Durable fabric re-enforced in key ware areas to increase lifespan and protect from abrasion.
First impression of this jacket is that its built to be worn and for cooler weather. The fabric is tougher then any of seen on other jackets with a good element of stretch and feels protective like you are putting on a suit of armour. It's still stretchy and flexible though feeling more like a "softshell" then the waterproof "hardshell" that it is. The hood is cavernous but cinches down well and moves with the head as you turn it. You can tell the jackets quality by little details such as finding the cord to cinch the hood being straightforward even when wearing chunky gloves. All the zips are chunky and feel robust while being covered by protective waterproof flaps to keep you dry and warm. The cut feels like a winter cut with plenty of room for layers and long arms to hide your hands in protecting you from the weather. It moves well with you on technical terrain despite it's burly build it feels totally un-restrictive.
During the first few wears I had this jacket out in 50mph winds and driving rain for around 7 hours and it provided great protection with very little water ingress (what water ingress there was came from my opening of the zipers to access my phone or adjust layers). The high collar when combined with a hat felt very protective keeping wind and rain away from the neck and giving great visibility. When the hood was then pulled up you felt really sheltered from the weather with it's wrap-around visor but this didn't hamper vision as much as you might expect. I'm really looking forward to putting this jacket through it's paces this coming winter on our winter mountaineering and ice climbing courses.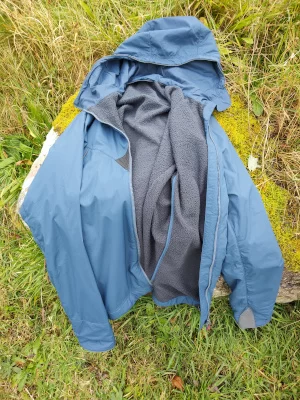 Vale Insulated Jacket
This is a light weight shelled fleece style of insulation with a loose weave to transfer moisture quickly. It's based on two fabrics; an outer of Klattermusen's own "Levitend" which reminds me of Pertex and an inner with a light weight fleece pile. The outer layer blocks the wind and dries quickly while the inner layer wicks moisture from your body with it's fluffy fleece. This leaves you feeling nice and dry. The jacket is cut to be used as a midlayer this means it's close fitting and would take a base layer and light fleece underneath but not much more without feeling a little restrictive. The cut for me (5'10", 75kg wearing a size medium) feels excellent.
Details that the jacket has includes thumb loops at the end of the sleeves, a close fitting windproof hood, and an angled zip to keep your chin nice and comfy. These all work well for me with the hood following well when you turn your head and keeping you nice and warm. The thumb loops are handy when quickly throwing a layer over the top of the jacket to stop the sleeves riding up and to provide a bit more protection for your wrist when the weather is cool. The angled zip runs nice and smoothly.
The initial impression of this item is that it is really lightweight and with minimal insulation but in use it's surprisingly warm especially while you're active. Jackets with this type of performance are one of my favourite items. I generally find you can wear them most of the time from pretty warm days right through to when conditions are really quite cool. They are generally the first item of clothing that I pack when I'm heading to the hills whatever the time of year or weather. I'm looking forward to seeing if this lives up to my expectations.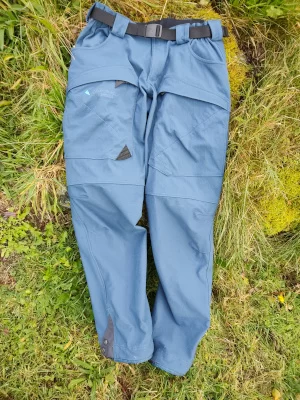 Gere 2.0 Mountaineering Trousers
These are a hard-wearing work horse of a trouser, designed to be used day in day out. They feature a good array of pockets including one on each thigh, two standard pockets at your hips and two hidden rear pockets. The waist is elasticated and has a belt to keep them secure and well fitted. The fabric they're made from feels very robust and hard wearing. With this in mind the fabric is quite warm so they've provided vents on the upper leg so you can keep the temperature down. The cut feels like a nice pair of jeans, a nice balance between slim enough for you to stay agile while not too figure hugging.
During my initial few wears I've been very impressed. They block a good amount of wind and kept my legs warm enough even in 30-50mph winds while not being too hot when walking up hill. I've had them on for a good 20 minute heavy rain shower and the water repellent coating did it's job well keeping the rain out. For longer spells of rain you would need to put a waterproof trouser on over the top. On scrambling terrain I felt free to move and didn't notice them, even the ankle stayed nicely around my boots.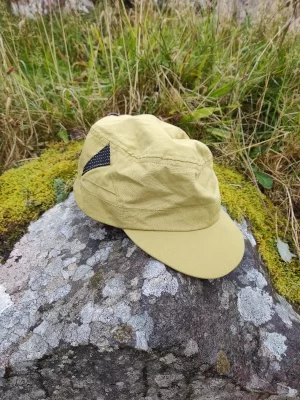 Grimner Cap
The Grimner cap is a cotton, polyester, elastane blend giving a hard wearing, stretchy and quick drying fabric. The stiffened brim is just the right length for me, providing good shade from the sun without restricting the view or being in the way while scrambling or climbing. It features an elastic adjuster at the back as well as a little loop for attaching it to things. The fit is perfect for my rather average sized head with the little bit of stretch really helping to keep it comfortable. Lastly there are two slots in each side which I assume are to allow sunglasses to be placed above the visor while still being more comfortable then they would otherwise be.
My initial impression is that this is a well made, functional cap that looks good. it feels really light weight meaning you can take it with you more often then not and has a few little details to set it apart from others. I'm sure I'll be wearing lots on the days to come.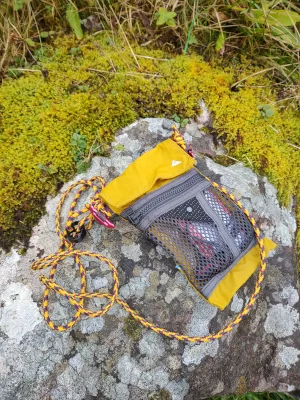 Algir Lanyard
An unusual item of kit. This is a small pocket, perfectly sized for a phone with a few other odds and ends attached via a bit of cord. The whole package is very lightweight meaning you don't notice you're carrying it. For me it performs the perfect function of being a means to attach my phone so I can take photos on climbs without the risk of dropping it as well as carry some key items for navigation in challenging conditions so they're to hand. Lastly you can also fold up a print out of your guidebook description to take with you should your phone fail (print this on waterproof paper or laminate it as the pouch isn't waterproof if you are using it in more challenging conditions).
I intend to do a blog post soon about technology and navigation in winter where I'll go into more detail about how I use this lanyard pocket.
Over the next few months I will be using these items extensively and will be looking to do a full review of each item as well as other equipment that we use. In the meantime if you'd like any details about these items or have any thoughts you'd like me to expand upon then please do get in touch.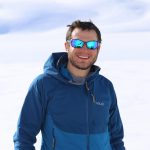 Thank you for reading,
Ollie
Winter Mountaineering and Climbing Instructor (WMCI) and Lead Guide @ Climb Torridon