It's that time of year when summer is drawing to a close and autumn is arriving that we start to get excited about winter. We hope that you do too.
Last year we had winter skills courses where we learnt to use ice axes and crampons as well as build snow shelters and general snow craft; winter mountaineering courses where we looked at travelling through steep snowy places; and climbing courses where we focused on using two tools to ice climb and mix climb. Your feedback was fantastic (see below) so this year we're offering more of the same.
Fantastic feedback from last years course:
Which course should you book?
Winter Skills Courses – These are aimed at summer hill walkers looking to extend the time of year that they can travel in the mountains or climbers that are new to the winter environment and are looking to get a good basis for travelling through the hills. Find out more…
Intro Winter Mountaineering Courses – These are for summer scramblers, mountaineers and rock climbers looking to understand steeper terrain in winter. Most people on these courses will have done some winter walking before. Find out more…
Intro to Winter Climbing Course – These are for rock climbers looking to learn how to climb on ice and mixed routes. To get the most out of these courses you will have some experience of belaying and winter walking or mountaineering. Find out more…
Guided Winter Climbing or Mountaineering – for those people looking for someone to help them get the most climbing out of the area and that are a little less focused on learning we offer guided climbing or mountaineering days out. These are bespoke for every booking so each day will be perfectly tailored to that dream route you've always wanted to do. Find out more about our guided winter climbing or winter mountaineering.
Bespoke – from climbing Everest or the Matterhorn to trying to capture that perfect winter photo. If you have a plan but need to brush up on the skills to achieve it then get in touch and we'll tailor a course for you. Contact us on info@climbtorridon.co.uk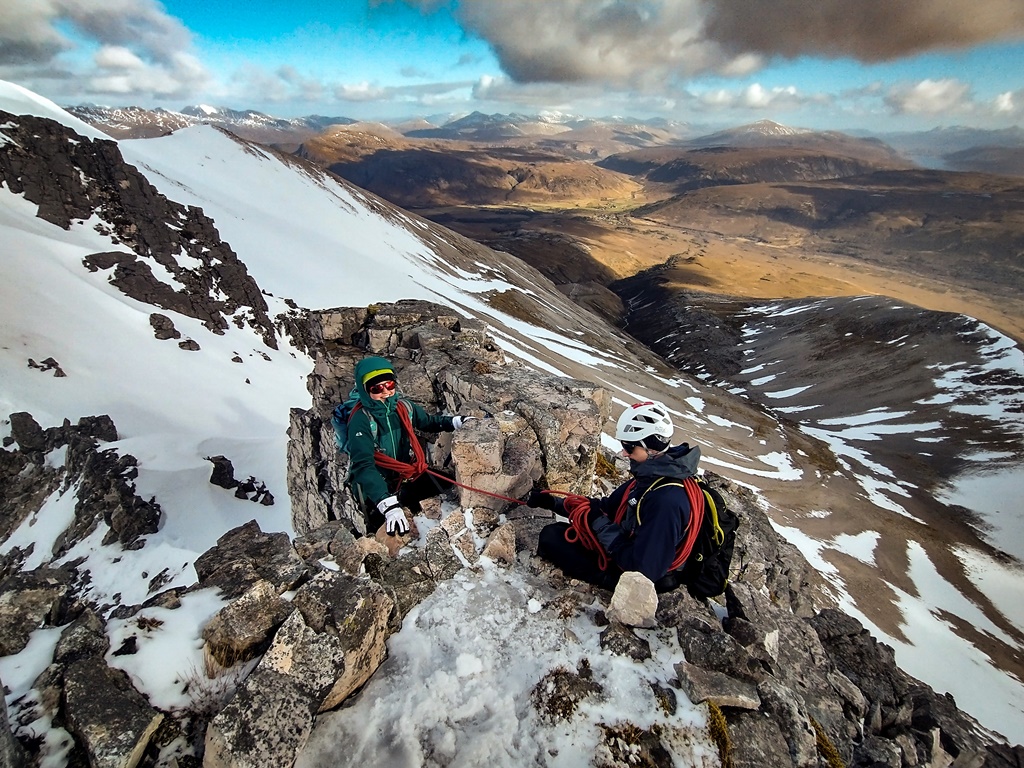 Our Open Course Calendar:
Our open courses are for individuals looking to join a group of like minded people on one of our courses. All the groups are small numbers with a maximum of 6 for winter skills, 4 for winter mountaineering and 2 for winter climbing courses. This means you know you'll be getting the focused attention you deserve. Though each winter season is different we think very hard about the best times to put on each course to give you the best conditions possible. The full calendar of our courses is below.
Don't see a date that works for you then you can always book a private course.
January
February
March
Private Courses
If you have a few friends with a shared aim or are looking for individual tuition then we run all our courses on a private basis so you can choose dates to suit you. contact us on info@climbtorridon.co.uk to discuss your goals and experience so we can tailor a course for you.
Beat Inflation, our prices are the same as last year!
We know how important having a bit of breathing space and challenging yourself in these beautiful mountains is to you. We also know that there's a lot of uncertainty at the moment with rising costs of living. Because of this we've frozen prices to be the same as last year so that as many people as possible can come and join us in enjoying these wonderful hills this winter.
The axes and crampons are getting sharpened, our kit is being checked. We're excited, ready for this winter and for you to come and join us.